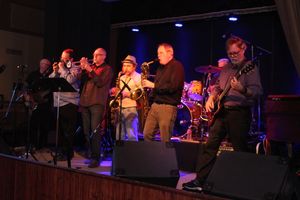 A horn-driven Pacific NW band, COZMIC SAUCE play Funky/Soul/Jazz inspired grooves.  It's a bright, positive, unique sound that gets audiences up and dancing!
Cozmic Sauce delivers a high energy, seriously fun show.  The music is joyous, irresistibly danceable, and makes every event a party; always sure to have folks smiling and grooving.
A collection of veteran musicians, their combined experience shows in the passionate, well executed dance music, in a professional attitude and the ability to work harmoniously with audience, promotors, venue owners and staff.
If you are looking for a great time, a fun evening and a chance to dance away your cares? ...Cozmic Sauce !
If you are needing a band, to create that type of feeling for your event ? ...Cozmic Sauce !